About...
dobney.com is a specialist market research consultancy and technology development company founded by
Saul Dobney
in 2000. We provide market research, analysis and
Cxoice
Survey and Insight Management Software
to help companies identify, understand and model the choices that drive successful market strategies on pricing, forecasting and product and service management.
Contact us...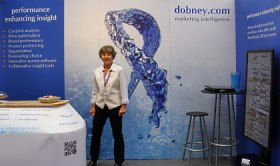 ---
Exhibiting at the Insight Show at Marketing Week Live at Olympia in London
We research, analyse and model how customers and consumers choose and make decisions, in order to help businesses forecast, plan and optimise market strategies to better meet customer needs, and develop specialist software to gather and manage market knowledge.
Using leading edge research tools and bespoke software combined with business insight and high quality research knowledge, we work with businesses, from start-ups to global multinationals, to help them understand the key drivers in their markets.
"It was a pleasure working together and I suspect we may work together more in the future. If I can ever offer a reference for you, please don't hesitate to let me know."
---
CEO CINgroup Software
"I have been very impressed by the overall management of the project from the brief, through the fieldwork, the analysis conducted to the presentation of results. The communication between yourselves and us has also been clear and prompt.

The presentation gave the audience a clear understanding of a complicated study. Our Circulation & Marketing Director, was also impressed."
---
Research Manager Northcliffe Newspapers
"Our key research objective was to obtain a hierarchy of consumer needs for our NPD programme, but dobney.com exceeded our expectations by also building us an excel-based model to test consumer preference for different product scenarios - we got much more than we expected!"
---
R&D Technology Manager, Reckitt Benckiser
We have worked with major companies in the UK, US, Germany, France, Switzerland, Spain, China, Malaysia and Belgium that include:
SolidWorks / Dessault Systemes
Leica Microsystems
Stretto Group software
Haven Holidays / Bourne Leisure
Intel
GoApe
The Independent
Boehringer Ingelheim
Red Gate Software
Curaprox Dental
Bavaria Beer
Telefonica
Argos
Publicis Groupe
Royal National Institute of the Blind
St James Place Financial Services
Northcliffe Newspapers
ATS Euromaster
Our technologies include Notanant: web-based knowledge and content management systems for insight curation and sharing, Cxoice Survey Technologies for data collection including conjoint analysis, non-linear questionnaires, fieldwork management and automated reporting and presentation, SpaceMaps for interactive visualisation and analysis of customer data, and the Questionnaire Wizard: software for streamlining and standardising questionnaire design. This website is built using our software platforms.
We have licensed software to SPSS, the University of Michigan and are included in several books and academic courses and have published in the International Journal of Market Research on conjoint analysis, and worked with leading universities.
Our website includes more than twenty years of content from classic research and sampling to current leading edge demonstrations and technologies.
---
Saul Dobney:
As an ESOMAR Member, I comply with the
ICC/ESOMAR International Code on Market and Social Research and ESOMAR Guidelines.
'dobney.com market research' is the trading name of The Dobney Corporation Limited. Registered in England No. 4287937
Registered address:
The Dobney Corporation Limited,
27 Grange Park
Chepstow
NP16 6EA
UK
Phone: +44 (0)20 7193 6640 or +1 717-983-8700
Email: enquiries@dobney.com
Terms and conditions can be found in our site privacy policy
| | | |
| --- | --- | --- |
| | | News and events providing updates of new product releases and updates to our technology platforms and noteworthy information about our business, and a current calendar of market research and insight events. |
| | | We periodically include job openings and freelance opportunities here, or opportunities for interviewing or fieldwork. |
| | | All content on this site, including code and tools, is copyright dobney.com and may not be reproduced in part or entirety without express permission of dobney.com (contact us at enquiries@dobney.com) |