CATI for All Sizes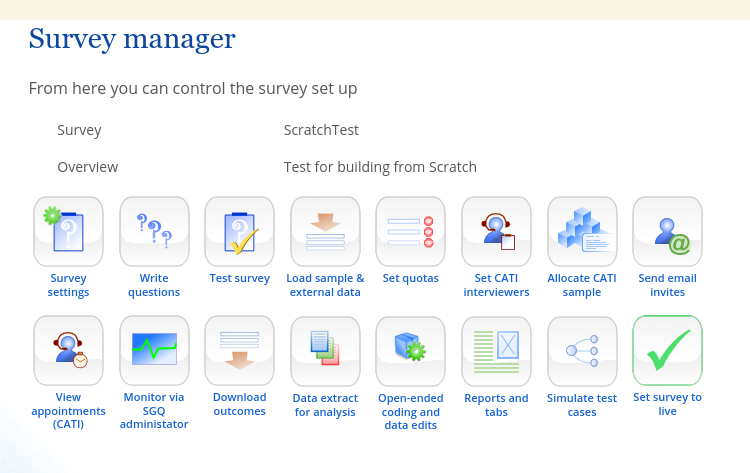 Traditionally, technology for telephone interviewing (CATI) has been limited to larger businesses able to afford centralised CATI systems and software. In contrast, Cxoice CATI is a web-based solution, allowing an team - small or large - to have a full range of tools for telephone interviewing.
Cxoice provides sample and contact management, interviewer log-ins, appointment setting with simple monitoring, and control and quota setting all from a web-based plaform that can be used remotely or from home.
Cloud-based CATI for remote working
Prior to 2020 telephone interviewing always required a central location for the team and expensive software running off an office-based server for management and control purposes. However, when the COVID lockdowns hit, researchers needed ways to work remotely or from home. Cxoice's cloud-based solution to interviewer and sample management stepped up, allowing interviewer teams to continue but with remote working, with no loss of control for fieldwork managers.
Cxoice ensured that sample was distributed among the fieldwork team, quotas were set, and that call performance could be monitored - all using a cloud-based solution.
However, because it is web-based and there is no software to purchase, Cxoice also offers smaller research teams to run small CATI or telephone-depth projects across an interviewing team. Smaller consultancies can have all the control of full-sized CATI, but on a project-by-project basis, without the big agency overhead..
Project-by-project telephone interviewing management
The core of Cxoice CATI is in managing the sample contacts, sharing the sample across the interviewers or researchers, while being able to control for quota and monitor call numbers and response rates.
Our web-based system allows you to upload the sample, add your own interviewers, and set them up with passwords, and then to allocate sample in blocks, or by speciality, or by language. The sample manager presents contacts for calls, manages appointments and callbacks, maintains contact notes across the team and allows the telephone team to focus on the call, not the technology.
Cxoice can link out to external survey packages or just manage calls. So if you have a qualitative depth interview on paper, Cxoice can still solve the sample contact problem, or if you have a client with a survey in Google Forms or Surveymonkey, Cxoice will give you the link for each contact made.
Full power CATI
Of course, the full power of the Cxoice CATI system comes when it is combined with our other survey tools. Full telephone questionnaire scripts, with options for web-assisted interviewing (WATI), live frequency counts and data monitoring, plus automatic tabs, presentation charts and reporting when the project reaches the end.
These can be combined with conjoint analysis and trade-off research tools, and our developing set of dynamic data visualisation technologies.
Cxoice is flexible and can be used as you need it. From just managing calls and interviewer teams, to a full agency suite of phone and web, with knowledge management, automatic reports and charting and complex multi-level surveys. Choose the Cxoice Technologies that work for you.
---
For help and advice on Cxoice Survey Technologies for projects or to get access to the full suite of insight generation tools contact info@dobney.com